Filter by Category
Music & Dance
Ukulele Extravaganza
with Margery Landis

Mar 18, 2020 at 6 pm

, runs for 6 weeks
The ukulele has experienced a huge revival worldwide and here is your chance to take part with no prior musical experience necessary. Students will learn to read music and play songs by picking and strumming. All students must bring their own soprano, concert or tenor ukulele that is in good working order using standard C tuning.
Will run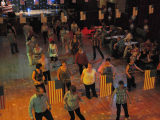 Urban Line Dancing
with Rosa-Lee Storer

Mar 26, 2020 at 7 pm

, runs for 4 weeks
All skill levels are welcome to attend this line dancing class to urban-style music. It's a stress relief and a way to increase your flexibility. Students will learn dances to rhythm and blues as well as hip hop hits. Dance moves are similar to the electric slide and the cupid shuffle. Wear comfortable clothing and shoes to class.
Will run